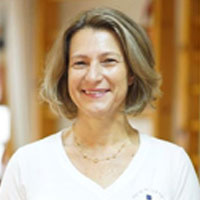 Lior Neuhaus Sulam
Graduated in 1993 from Tel Aviv University with a bachelor's degree in physical therapy (BPT), and in 2004 with a master's degree in physical therapy (MScPt).
Has been serving as a lecturer at Tel Aviv University, course on sagittal postural impairment since 2011 and at the Kibbutzim College, course on postural impairment from 2015-2016.
Since 1993 Has been working as a physical therapist for geriatric rehabilitation and as a coordinator of clinical instruction at the Beit-Rivka Geriatric Center.
Has been providing treatments for scoliosis, posture, and spinal deformations, at The Israeli Center for Posture and Scoliosis, an independent clinic in Tel Aviv and Modi'in, since 2001.
Completed a Schroth Method course in 2001 and an advanced Schroth Method course in 2002.
Completed a Mat Pilates Instructor Course with a specialization for physical therapists.
Received a certification as an international teacher from the Barcelona Scoliosis Physical Therapy School in 2011. Completed numerous courses in the areas of orthopedic and neurological treatments since 1993.
Completed Ortholutions RSC brace course in 2019.
Member of the National Interest Group for Posture and Spinal Deformation, founder and member of the International Society on Scoliosis Orthopedic and Rehabilitation Treatment (SOSORT) since its established in 2004. Participates and presents research and case studies in the organization's international conferences and in local conferences. One of the founders of the ISPTS group – Israeli scoliosis physical therapy school
Other Members