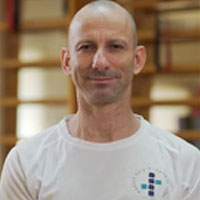 Dror Levi
Graduated in 1996 from Tel Aviv University with a bachelor's in physical therapy (BPT), and in 2014 from The Academic College at Wingate with a master's in Physical Education and Sport Sciences (MPE), specializing in biomechanics.
Has been serving as lecturer at Ariel University since 2005, and at The Kibbutzim College from 2015-2016.
Has been working for Maccabi health care Services as a physical therapist since 1996. Has served as a clinical instructor since 2000 and currently serving as Maccabi's national coordinator of posture treatments. developed the computerized sheet for the examination and treatment of patients with posture impairments in Maccabi health care services.
Got Maccabi Rewards for professional excellence in 2001, 2002, 2014, 2019 and Certificate of appreciation for service given above and beyond in 2004.
Has been providing treatments for scoliosis, posture, and spinal deformations, at The Israeli Center for Posture and Scoliosis, an independent clinic in Tel Aviv, since 2001.
An expert in the treatment of posture deficiencies and deformations since 2000.
Completed a Schroth Method course in 2001 and an advanced Schroth Method course in 2002. Received a certification as an international instructor in the BSPTS method from the Barcelona Scoliosis Physical Therapy School in 2011. Completed ortholusion RSC brace course in 2019. Completed numerous other trainings for orthopedic treatments since 1996.
Member of the National Interest Group for Posture and Spinal Deformation, and one of the founders of the ISPTS group.
Member of the international Society on Scoliosis Orthopedic and Rehabilitation Treatment (SOSORT).
Published researches on scoliosis
Levi, D., et al. (2019). Acute muscle stretching and the ability to maintain posture in
females with adolescent idiopathic scoliosis. Journal of Back and
         Musculoskeletal Rehabilitation, 1.
Bezalel, T., Carmeli, E., Levi, D., & Kalichman, L. (2019). The effect of Schroth
Therapy on Thoracic Kyphothic Curve and Quality of Life in Scheuermann's
Patients: A Randomized Controlled Trial. Asian Spine Journal, 1.
Other Members