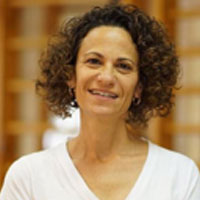 Iris Braz
Graduated in 1993 from Tel Aviv University with a bachelor's degree in physical therapy (BPT).
Lecturer and leader of courses and workshops for physical therapists in israel on the topics of posture impairments and the Schroth method for scoliosis.
Has been working at "Shidra" private physical therapy clinic since 2000 and at the Israeli Center for Posture and Scoliosis treatments since 2012. The clinic specializes in orthopaedic and spinal postural and scoliosis treatments.
Expert in the treatment of spinal deformation disorders since 2001.
Expert in the treatment of pelvic floor dysfunctions since 1996.
Completed numerous courses in the areas of orthopedic and neurological treatments since 1993.
Completed a Schroth Method course in 2001 and an advanced Schroth Method course in 2002.
Received a certification as an international teacher in the BSPTS method from the Barcelona Scoliosis Physical Therapy School in 2011
Completed ortholutions RSC brace course in 2019.
Member of the National Interest Group for Posture and Spinal Deformation, and one of the founders of the ISPTS group- Israeli Scoliosis Physical Therapy School
Member of the international Society on Scoliosis Orthopedic and Rehabilitation Treatment (SOSORT).
Other Members