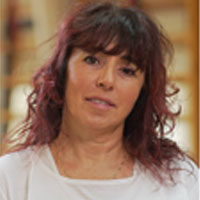 Liat Sadot
Israel
Graduated in 1990 from Tel Aviv University with a bachelor's degree in physical therapy (BPT),
and in 2019 from The Academic College at Wingate with a master's in Physical Education and Sport Sciences (MPE), specializing in biomechanics
Completed various extensive courses on orthopedic treatment, including the Maitland, Mulligan, and McKenzie methods. Completed Dr. Massery's course on respiratory rehabilitation for children.
Completed a Schroth Method course in 2001 and an advanced Schroth Method course in 2002.
Received a certification as an international teacher in the Schroth method from the Barcelona Scoliosis Physical Therapy School in 2011.
Lecturer and teacher in the Schroth method for scoliosis treatment in Israel .
Active contributor to Israeli and international conferences and seminars on scoliosis.
Has been serving as coordinator of posture and scoliosis treatments in the Macabi Health Services, Southern Region, since 2008
Founder and member of the SOSORT organization, since its establishment in 2004.
Completed ortholutions RSC brace course in 2019.
Member of the National Interest Group for Posture and Spinal Deformation, and one of the founders of the ISPTS group- Israeli Scoliosis Physical Therapy School
Other Members