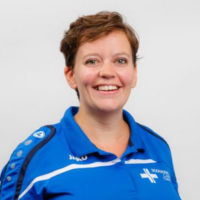 Ilse de Wilde
The Netherlands
Physical Therapist
Specialization:

C1 Schroth BSPTS Scoliosis Rehabilitation Physical TherapistC2 Schroth BSPTS Scoliosis Rehabilitation Physical Therapist
Schroth BSPTS Scoliosis Rehabilitation Instructor


RSC Brace specialist
Ilse de Wilde graduated in 2010 as a physiotherapist at Hanze University of Applied Sciences in Groningen. At the beginning of 2011 Ilse was certified by Dr. Manuel Rigo for the C1 level of BSPTS Schroth therapist in Barcelona. In 2013 Ilse followed the Advanced Level C2 (advanced course for BSPTS Schroth therapists) and was certified by Dr. Manuel Rigo for this C2 level. Ilse is since 2013 certified as RSC brace specialist and attends regularly the Intensive Seminar Instructional Courses on the RSC Brace at Ortholutions in Germany. Ilse is also member of SOSORT.
"I am married to Johan and I live in a small village in the polder. I have been working at the Scoliosis Care Clinic ® from the very first hour. Together with Marjan and Mariëtte I followed the training for BSPTS Schroth therapist in Barcelona (studying hard during the day and tapas in the evening ☺).
We follow a continuous education protocol to keep our knowledge up to date. We regularly travel abroad for this.
My biggest passion is giving intensive therapy and education. The contact with the clients is great, but also the development that the clients are going through. In addition to the many young people, we also treat adults. It is great to show the youth that their dreams can still come true and that adults also have a future with their scoliosis.
Education:
2010: Bachelor of Health – Physical Therapy, Hanze
Hogeschool Groningen
2011: C1 Schroth BSPTS Scoliosis Rehabilitation Physical
Therapist
2013 : C2 Schroth BSPTS Scoliosis Rehabilitation Physical
Therapist (Advanced level)
2013: Instructional Intensive Seminar The RSC Brace
  (Certified RSC brace specialist)
2018: Certified BSPTS Instructor
Contact and more information

Ilse de Wilde – Kramer
Dokter van Deenweg 38-40
8025 BB Zwolle
Netherlands
Phone:  +31-38-4524022
Email:  bspts@scoliosiscareclinic.com
Website: www.scoliosiscareclinic.com
Other Members